I will be at TFC all morning.  Regular 8:30 class.  Subbing Ellen's SS class at 10 and then doing my regularly scheduled SS class at 11:30.  Come in and get a workout in.  After (and before) all the eating going on, I am thrilled to be teaching all morning!
A bazillion thanks to all that sent kind words, cards, gifts etc.   It was a wonderful weekend celebrating my birthday with Mitch.  We loved The Book of Mormon, and a very spontaneous night on the beach.  Thanks for that birthday surprise, Mitch.
This weekend pick me up was just what the doctor ordered after saying goodbye to our best furry friend, the bigreddog, Blaze Zipp.  He will remain in our hearts and souls forever.  He was the best dog ever on the face of the earth.  Ok, he had one fault.  He was an overkisser.   We know that whenever we see or hear a motorcycle, it will be him, smiling down on us and enjoying the ride over the Rainbow Bridge…oh how he loved the hum of a Harley.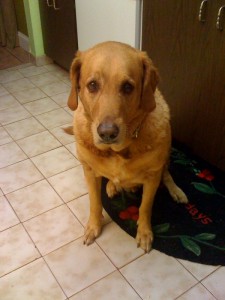 Blaze Zipp  May 13, 2001-December 19, 2013
In his memory, we will be planting a red rose garden.  It will remind of us of many of his beautiful qualities (though he was anything but thorny).  It will also remind us to stop and smell the flowers of life…Hoping you will, too!