You did it again!!  Thank you.  Thank you.  Thank you.  All of your generous donations filled Sheree's car once again.  Just under 400 pounds of food, which translates to well over 300 meals, which will go directly to hungry people.  It's pretty awesome to see the operation and be in the energy of so much generosity and kindness.  When we arrived today, we met Michelle, a coordinator, who immediately asked if she could take our pic so…..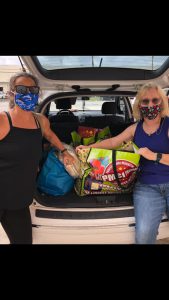 This is one of two carts that we filled to get to the scale.  Final weight was 380 for the two wagons.  The pictures just don't do justice to how much food that really is.  We repack the donations and make the bags and boxes  HEAVY (thankful to be strong).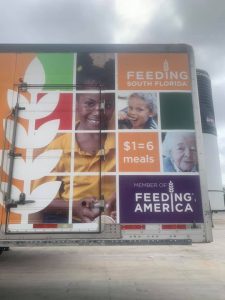 These are the trucks that get loaded up to bring the food to donations sites all across Palm Beach, Broward, Dade and Monroe counties.
Tomorrow, we begin collecting again.  We all sleep much better when we know others can, as well.
#F.F.I.T.