Write.  Delete.  Write.  Delete.  This has been my experience this morning.   So, I decided to shuffle my Oracle Deck and asked for a message that could resonate with those of you reading this today.  Here is the card that showed itself.  The explanation that follows is copied word for word from the guide that comes with the deck.  My take away is one that I always have believed:  Our bodies are designed, when given the right tools, to heal themselves!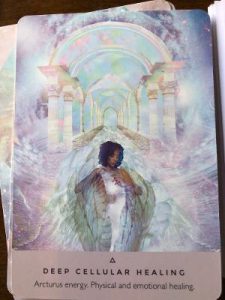 DEEP CELLULAR HEALING:
Arcturus energy.  Physical and emotional healing,
Your body knows how to heal.  Healing is your natural state.  Physical and emotional disharmony can be a reflection of how the world (inner and outer) has been out of alignment.  If you're suffering from a mystery or chronic illness, don't allow yourself to think you have done something wrong.
Today it is difficult to navigate our health.  If this card appears, you are being called to focus on your healing in practical ways.  To prioritize your health.  To be kind and tender to your miraculous body.  To give yourself the grounding and care you need.  To put your body first.  To nourish yourself as you would a newborn baby.  To treat yourself with tender care.
You may be called to switch things up with your body or emotional well being.  To call in a team of helpers to support you in navigating any challenges you may be experiencing emotionally.
The Arcturians are a galactic group of beings who have mastered deep cellular and emotional healing.  They want you to know that it's possible to feel vibrant in your body and well in your skin.  To have your cells return to effervescence and vitality.  To find calmness and contentedness.  To have a soothed nervous system and a tranquil heart. 
It's been almost a year since the pandemic started and as my old friend said in her holiday letter, none of us are the same as we were a year ago.  Please listen to the message that came with this card.  My wish for you today is restored health, a soothed nervous system and a tranquil heart.  Just as a by the way, it's meatless Monday and I PROMISE you you will feel healthier and more tranquil by choosing a wholesome, plant-based meal!!