Let me open by saying that I was rooting for KC and Mahomes.  I thought it was time for someone else to experience the thrill of the win, the ring, the trophy and going to Disney!  I openly admit to having some issues with Tom Brady (or anyone) having it all!  Also, personally, I don't think any man should be as pretty as his wife.
All that said, I do find solace in the old guy winning.  For years I have been so upset with the "he's too old/she's too old," mentality.  Our muscles don't get older, they get stronger!  Our brains get smarter.  Experience matters.  Becoming familiar with what works and what doesn't takes time.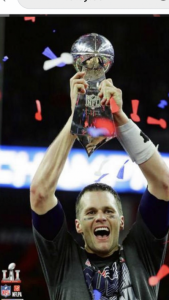 Brady has it pretty well figured out.  He is a creature of habit and his nutrition is a reflection of that.  He leans heavily into plant-based nutrition (though neither vegan or vegetarian and includes fish, poulty, meat and eggs in small amounts).  His gym fridge is apparently filled with bananas, avocados, berries, cucumbers, apples, pears, kale and spinach.  Ahhhh IT MUST BE THE SPINACH!  Many athletes have found that leaning more heavily (or even entirely) into plant-based nutrition has given them a greater edge both professionally and personally.  If you want to learn more about this, I highly recommend the documentary, THE GAME CHANGERS, which you can find on Netflix (but probably elsewhere, as well).  I saw it in the theater the ONE night it was available, and have since watched it several times.
It is Meatless Monday, so I hope you will consider that, today, as you make your meal choices.  Find your fitness.  Practice POSITIVITY!  Seek peace.  Decide on happiness.  These are ALL choices!
Not older, BETTER!