Sometimes you just need a snack.  For anyone who is looking for allergy free treats, The Enjoy Life Company has a full line of them.  I first started buying the chocolate chips to make oatmeal banana choc chip "cookies" and then started seeing some of their other products at Trader Joe's and Publix (I am sure they are everywhere now).  With over 40 great tasting products, they are all free of dairy, wheat, peanuts, tree nuts, eggs, soy, fish and shellfish (which account for over 90% of food allergies).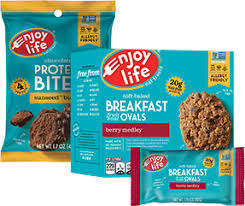 I started buying the little bags of protein bites at Trader Joe's.  They are much more chocolate treat than protein, but at least the ingredients are clean and they are better than many alternatives.  I haven't tried any of the other 40 products –if you do, please let us know what you think.  You won't often find me posting about sweet treats, but hey, it was Valentine's Day this week.  Hope yours was spent sweetly.
A million thanks to all who donated to F.F.I.T this month.  We will be heading down with a fully packed car, once again.  It's much easier to enjoy life, when you share.  What began as a thought, has blossomed into a mission.  That's the beauty of planting seeds.