Last night, under the almost full, blue moon, we released what doesn't serve us, in order to bring about change.  This is what we do at the end of our yoga sessions, when the moon is full.  I admit, I used to think it was pretty crazy to ask the moon for anything.  Now I do it every single month, because it is powerful and intention setting is everything.  How can we get what we want, if we don't ask for it?  The moon will actually be full, tomorrow, so this gives you a little time to ponder what it is YOU want to release, and what YOU want to bring in.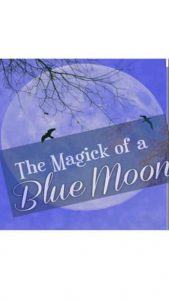 I made a batch of my "energy cookies" yesterday and decided to include the recipe (though it is on here somewhere, from years ago).  NEVER throw out ripe bananas!  I had a few and here's what I did:
Pre-heat oven to 350.  Mash 3 medium to large over ripe bananas in a bowl.  Add between between 1.5 to 2 cups of quick oats.  (Add some and then keep adding until the texture of the batter resembles cookie dough).  Add 1/4 cup of raisins or craisins and 1/4 cup of dark chocolate chips.  Mix well and scoop spoonfuls onto a tray lined with parchment paper.  They wont expand so you can put them pretty close together.  Bake for about 17 minutes.  Remove from oven and let cool for 5 minutes.  Take the back of a spoon, (I use a honey dipper) and make a little well in the center of each cookie.  Spoon in a dab of peanut butter.  The cookies need to still be warm, and the peanut butter will melt a bit.  Then remove cookies from hot tray to cool and set.
These cookies have been a staple in my house for years.  They work great as a treat, or snack, or a couple of them make a great and easy breakfast!  You can't really mess these up.  Less oats will make them more moist, more will make them more dense.  If you bake them 15 minutes they will be fine, but 20 minutes won't kill them!  Play with the size — I get about a dozen out of this recipe and calculate them at about 100 calories.  So…. low in calories, healthy, full of fiber and anti-oxidants, filling, easy to make, using bananas that might otherwise get wasted and no animals are harmed in the process!  That's a win/win.  My friend Rita uses similar ingredients to make "oatmeal" bars and they are also amazing.  I am sure she would be happy to share that recipe.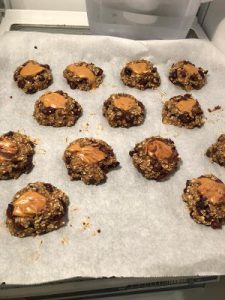 I am going off the grid for a few days to enjoy the Hallow-weekend and to detach from all the politics!  My vote has been cast and counted.  Please make sure yours is as well.
On a final note, the seasons are changing and it is getting really nice to be outdoors working out!  If you need a jump start, I am available to help you.  While I wait for it to be safe to workout indoors, I am happy to meet you at a park or in my yard!  From cardio, to strength training, yoga, Pilates and more, we can get it done!  While personal training has always been so "exclusive," everything changes and I am happy to work out a plan that works for you, just ask!  I will be trying some pop-up sessions soon and probably another yoga session as well. 
Happy Halloween, happy blue moon and don't forget to set your clocks back tomorrow night!  As always, I truly appreciate you stopping in for a dose or peaceandfitness.  Namaste