Happy Vegan (Feast) Thursday everyone.  In keeping with the tradition, the kitchen has been busy this morning.  I made a big bowl of oatmeal with some vegetable protein, ground flax seed, cinnamon, a dab of peanut butter and a few raisins for breakfast.  It's my morning salad.  I also baked a bunch of the no sugar, no flour and vegan by coincidence, oatmeal cookies.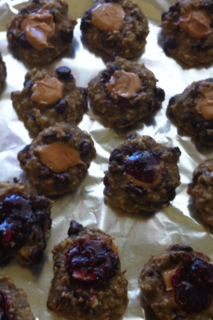 Additionally, I made a batch of flavored water, which I have been doing this week and drinking before meals.  I fill the blender with water and then add a handful of strawberries, the juice of a fresh lime and about 1/2 teaspoon of cinnamon.  I blend it all up and keep it in the fridge.  The lime is a natural fat burner and the cinnamon is great for keeping insulin from spiking.  I notice that a glass of it is actually pretty filling, probably from the fiber that the strawberries add.
While we are talking about foods that are "vegan by coincidence," I want to share the treat I made for Mitch and I last night.  I may have already mentioned the banana surprise treat, but they were so good last night, they are worth mentioning again.  They are a little pricey in terms of calories, so they really are a treat, but one that is perfect to satisfy a sweet tooth, healthfully and one that the kids will just love.  Take a banana with the skin on and make a slit from top to bottom.  Try to make it deep, but not all the way through.  Next, put a layer of peanut butter down the length and then add some dark chocolate chips (a small handful is more than enough!).  Wrap in foil and place on a hot grill, in coals, or as I did last night, right in a hot oven.  Bake for about 15 minutes or until the chips melt.  Serve with a spoon and enjoy!  It's probably about 300 calories and last night I did eat the whole thing, but honestly 1/2 is pretty satisfying!
Yesterday, Derek posted an interesting read on Facebook.  It was about how being a vegan is a privilege, because it's so expensive.  It certainly can be but definitely does not have to be!  All of the treats I posted today, cost only pennies per serving.  Thriving on a plant-based diet is whatever you make it (just like all things in life).  It can be rather affordable, very healthy and low in calories, or it can be the exact opposite.  Being a vegan is definitely a choice and not a privilege.  I hope, that today, you will make the choice to have at least one meal that is void of animal products.  It's a simple choice that can help make the universe a happier and healthier place.
Following is the information for the arrangements for Joe Price:
There will be viewings today from 2-4 and 6-9
Coral Springs Funeral Home 1420 N. University Dr., Coral Springs
The funeral will be tomorrow, Friday, at St. Elizabeth Church 1401 Coral Ridge Dr., Coral Springs
RIP Joe.  You were a very good man and will be greatly missed.