All of life is a dance.   Balance.  Fitness is no different.  It's so great to push our physicality and test the limits of our age/strength/gender etc.  When I was in my teens and early 20s, volunteering for and then working for the Muscular Dystrophy Association, I learned to be thankful every time I got out of bed and one foot effortless followed the other.  When I am out jogging, I am in a perpetual state of gratitude, thinking how fortunate I am that my totally overused, many times injured, 63 year old feet, knees and hips still allow me to incorporate this into my cross training.
I always tell my students and clients to find balance.  I often warn them, when starting on an fitness routine, that if they do not allow ample rest, they will quickly burn out.   My fitness balance usually comes from doing different things on different days and taking a rest day once a week, doing some peaceful stretching.
For 40 years, I have been exercising for a living, 6 days a week.  When the pandemic hit, and I took what started out as a 2 week break from work (HA!)  I wanted to not only keep up my fitness level, but test my own limits.  2 weeks quickly turned to 13 months and counting.  Having time to participate in so many challenges and workshops, fitness has kept me sane and strong and healthy (even if I did put on a couple of Covid pounds that won't budge).
What I am leading up to is that we can push our bodies hard, but we also have to listen to the messages our bodies send back to us!  About 10 days ago, mine said, "ENOUGH" and became overly exhausted.  After a shoulder and swimming workout, I woke up the next day and everything ached.  No fever, no virus, no nothing but achy muscles from my neck to my feet.  Because nature works in our favor if we only listen… I stepped on a piece of cactus that weekend, while walking barefoot in our yard.  It hurt like hell, (and still is healing) but I was truly thankful — for it stopped me in my tracks and reaffirmed the need to get off my feet and give my whole body (and soul) the rest and pampering it was crying out for.
When I first started running, back in my 30s, all my mentors told me to take a week or two off twice a year.  That advice came back loud and clear, 30 years later.  After an almost 2 week rest, my body feels happy and healthy (the foot is better every day–and the cactus is finally gone from our yard so that part wont be an issue again) and ready to take on it's next fitness challenge.
Fitness is just like life…always just trying to find the perfect balance.  In tarot, one of my favorite cards is the hanged man, as he seems to have it all figured out, viewing things from a different perspective.  While he hangs upside down, he is not only totally comfortable with it, but you can see how enlightened he is, as well.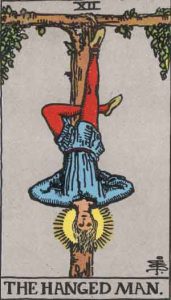 Wishing you peace, fitness, balance and enlightenment!!