You made it to Friday, again.  YAY.  Today is also National Unplug day so I am going to keep this short as we would all be much better off taking some time to do just that.  Stepping out into nature would be a great way to unplug and at the same time clear some negative energy.  Especially if you work in front of a computer, (even if you don't,we all spend way too much time screening and then layering those screens) it is a really great idea to set a timer for every 60 minutes (or less if it's realistic) and step away from your screen. (NOT to another screen which so many of us do!!!)
The following are all great ways to clear some energy and reground yourself:
Playing with kids, being with animals, taking deep breaths and big exhalations (holding in between)–try for 5/5/5–allowing the sun on your face, body and breathing it in for a few minutes (the sun is THE source of all energy and will clear out the negative and bring in the positive)–trees, plants, sand, the ocean, mountains, solitude, music–listening to it OR playing it–meditation, dance or most any type of movement or exercise.  When we are moving, we are always clearing out negative energy and making room for for the positive to flow in.  It's just one of the reasons taking a walk or a run or doing some sun salutations can flip your entire mood. 
I will keep my word and keep this short.  It's probably time for that screen break…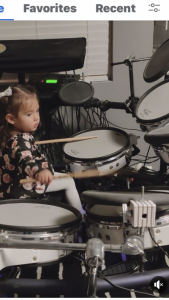 Summer girl, aka lil baby Riot,  clearing her energy after a long day at pre-school. #girlswhodrum