This morning, it's a totally random scramble of tidbits…
This is Monday, so on the meatless side of things, while I try to eat whole foods as much as possible, I do like to throw in some Gardein, JUST Egg and cheese products to make a decadent weekend breakfast.  I have found the easiest way to use JUST Egg is to SHAKE THE BOTTLE REALLY WELL and pour a thin layer into a frying pan (like a big pancake or crepe) on medium heat.  When it starts to bubble, put some shredded cheese on one side and fold it in half, omelette style.  I usually make a Gardein breakfast patty and throw the whole thing on a wrap or bagel.  If you use a cheese like cheddar or american, it will give the appearance of egg yolk running out, once it melts.  It makes a beautiful appearance and is delicious! (NOT saying healthy) I love having oatmeal with peanut butter and fruits, most mornings, but this sure is a treat and can make a great breakfast for dinner meal!  Through some potatoes on the side and it is pretty much perfection.  For me, anything with potatoes on the side, IS perfection.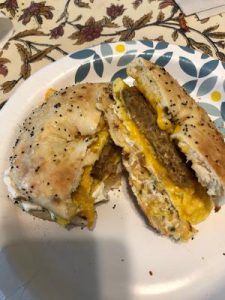 On the food drive side of things, it's amazing how many people from different states are rolling the ball and getting creative with ways to help people that are in need of food and more.  A huge thanks to those that so generously left food at our doorstep this weekend! Mitch and I dropped off two huge bags of canned goods, yesterday, at the temple around the corner.  They are unable to do their own food bank right now because of the pandemic, but they are delivering the donations to a food bank in Plantation, so the food is staying in Broward County.  They hope to be up and running again in Coral Springs, as soon as it is safe for them to operate.
Since I have received donations outside of the canned goods restriction at this drop off site, I am storing and now looking for places locally that will accept boxed, jarred and bagged items like rice.  PLEASE if you are local and you know of a place I can bring them, let me know here in the comments, on FB, or PM me or click the "contact" link on the home page of this site. Thanks to everyone who is making this F.F.I.T. project a reality!
I am thinking about how busy the fitness business gets in January and February.  This year is going to be very different, but our needs to lose the dreaded holiday (on top of pandemic) weight gain, will remain the same. I have a few people who have purchased the Mirror and when they give me feedback, I will share.  Clever invention, but pricey!  Make sure you are going to really use it, before dropping that kind of money.
By now, I had hoped to add some pop up classes, but got a little side tracked.  My plan, moving forward, is that any group classes I do in the yard, will have a fee of a couple of cans of food for donation, or a small check made out to Feeding America/South Florida (even 3 dollars can be converted into a bunch of meals).
If you are in need of personal training, we can shake things up outside in my yard, on the streets, parks, etc.  My rates for 2021 are adjusted to the needs of this crazy world we are living in.  Contact me and we will work out something that works for you.  While I have always had an area or two set up as gyms inside my home, Mitch and I have decided no one is coming in or out right now, with Covid numbers averaging 10,000 a day in Florida.  It is ridiculously hard to tell people I love, they cannot come into my home, or I am not hugging them, but I really would HATE, more than anything, to GIVE the virus to anyone and I would hate how terribly they would feel if they gave it to me!!  All over the world, this is a part of the struggle that we aren't really seeing.
On the peaceandfitness side of things, we will (weather permitting) have our last yard yoga of the year, this Thursday night.  It will be veryyyyy peaceful as we get ready to usher out this unprecedented year, and usher in, what we all hope will be, a safer one!
Wherever you are reading this, I wish you an easy Monday, filled with joy, peace, fitness and compassion.  I am always humbled and grateful for you stopping in!  Namaste.