With a title like that, this probably should be about yoga…but, it's not!
Hoping everyone had a peaceful, though probably different, Christmas holiday.  Mitch and I had a very quiet one, but quiet is not necessarily a bad thing.  Filled with so much gratitude, we just savored the nice long week.  While I was thrilled to spend my birthday at the beach, at our favorite local "escape," I was truly in awe of all the people hanging around at the pool seemingly without care, and obviously without masks. We spent all our time outside, by the ocean, away from others and inhaling those negative ions that are so healthy for us. Negative is not always a bad thing!
A combination of the pandemic and my plant-based diet, led us to bring our own food along. Obsessed with charcuterie as many are, I brought grapes, peanut butter filled pretzels, a long loaf of bread, nuts, chips, guac, a gorgeous olive combo, some fancy plant-based "cheeses" and smoked oysters.  Oysters are one of the few non-plant based foods I will eat, as oysters have no nervous systems so they feel no pain, and they are loaded with protein.  What set out to be pick food for happy hour, quickly turned into dinner, so if you are looking for a fun alternative meal for your meatless Monday, this is definitely something to consider.   Get out your biggest cutting board and let your imagination run wild.  Super fun for the adults and the kids, even more!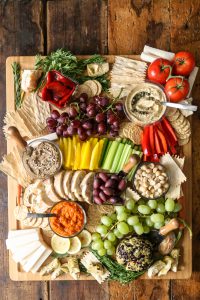 A million thanks to everyone who donated so generously to food banks, Feeding America and dropped food for donation at my door.  Thanks to those that dropped plants and vegan goodies off as well as gifts that donated profits to animal rescue relief and so much more.  I appreciate it all, along with all the good wishes!
Our front bench and entry area will remain a food donation drop-off center.  and Sheree and I will be making a once monthly drop off.   Feeding America will accept cans, bags, bottles, jars, etc., so if you bought too much of anything for the holidays and live locally, you can drop it off or I can meet you or pick up.  BOGOS are also a great way to contribute without spending.  Mitch will often say "I just don't need 2."  Perfect!  One for you and one for the food bank.  Thanks again for keeping others in mind.
Tomorrow night we find ourselves under another full moon.  Set your intentions.  Release what doesn't serve you so you can make room for what does!  If you aren't sure what those things are, sit in silence with yourself and ask the questions, especially "WHAT MAKES ME HAPPY?  And once you figure out what does, do more of THAT.
Thanks for your time.  Go out there and be happy!  Given the alternatives, this should be our go to state of being!  Happiness.