This morning I was drawn to pulling a card from my Starseed Oracle Deck and asked for one that would resonate with any of you reading this.  The card that popped out, is one that has often popped out before and is the one that helped me decide to use my yard as a yoga studio (this was in hot, sticky August –in South Florida).  It was also the card that helped me pull the trigger on my concept of FFIT.  Though I don't pull often to share on here, I may have pulled it before for all of you, but it's the one that came up and it's not for me to alter the card readings!  It is such a great, simple message and I hope it resonates with you!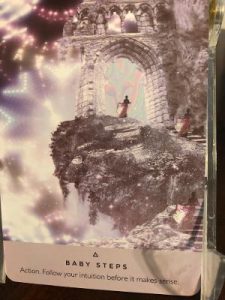 Action.  Follow your intuition BEFORE it makes sense.
You're being called to take grounded action on response to your soul's calling.  To start where you are and begin building in a consistent way.  So many people stop themselves from living a soul-led life because they're waiting to know the destination before taking the first step.  But intuition doesn't work like that.  Our soul is always calling us-every moment of every day.  Listen to your soul's baby calls and whispers each and every day, and take grounded action in the direction of those calls and whispers.  You're being encouraged to start small.  Bite-sized.  To put one foot in front of the other.  To do one thing every day.  To break things down to achievable tasks.
Time on Earth goes slower than other planets.  This can cause frustration making us give up before the seeds begin to even sprout.  If you resonate with that, it's time to opt for consistency over urgency.  Time to take BABY STEPS in the direction of your calling.  To remember that you don't need to have it all figured out or know exactly where the path is leading you.  You don't have to know every single step along the way, before you set out on your great journey.  You just need to take the next step.
What's one simple step you can take in the direction of YOUR soul's calling?