A highly motivating way to keep moving forward with your fitness, is to participate in a challenge.  Whether it is one you do with others or make for yourself, it will certainly help keep you committed.  Last week I did a 3 day yoga challenge and yesterday I started a 30 day yoga challenge.  It appears to be something I can squeeze in regardless of what other workouts I have going on, but if I skip a day or two, that's ok, too.  My commitment is to doing all 30 workouts, even if it takes longer than that.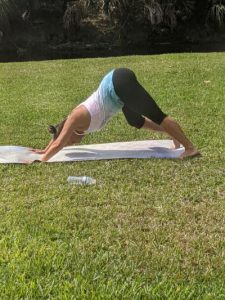 A challenge can be 10 pushups every day for a week.  It can be walking 15 minutes every day for a month or doing crunches every night before bed.  It can be stretching 10 minutes a day for 21 days.  How about a squat challenge, or 15 minutes of weight training 3 times a week for a month?
Perhaps you want to challenge another to do this with you in person or virtually.  Maybe a group?  A google search will give you endless ideas, or hit me up for suggestions.  You are only limited by your creativity and your desire.
The feeling of accomplishment along the way is a really good feeling.  The feeling of accomplishment when the challenge is complete, is truly AWESOME, so this morning I CHALLENGE YOU TO CHALLENGE YOU!  Go get em.