Today we celebrate the first full moon of 2021.  We call this moon, the wolf moon. Did you know the wolf howls at the moon for better acoustics?  The wolf is looking for love and wants to be heard, so he howls at the moon, as if to say I AM HERE, with so much pride and sparking like a diamond.  (For theater buffs, think Eartha Kitt as she made her appearance in Timbuktu).  I had the rare pleasure of seeing her perform this number live when I worked at the Muscular Dystrophy Association, and it was SO impactful, it stayed with me forever.
I AM HERE.  That was our mantra last night, as we closed our yard yoga in savasana, beneath the light of the silvery moon.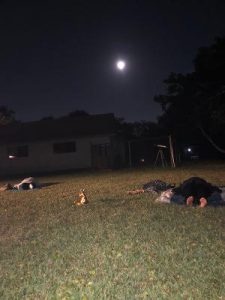 It was a beautiful night and as always, wonderful to be in the company of some awesome woman.  As in any group, there were events to be celebrated as well as mourned.  My heart goes out to Tasha and her family as they struggle with the loss of one so young.  Taken from earth at only 8 years old, Tasha's niece was diagnosed with a childhood variant of Covid.  May her memory be a blessing to all who loved her.
Thank you, Erica, for the generous donation to Feeding South Florida.  You know it is greatly appreciated and I will make sure it goes a very long way!  Right here, in front of my computer, sits the scrap of paper with the words:
FIGHTING FOOD INSECURITY TOGETHER-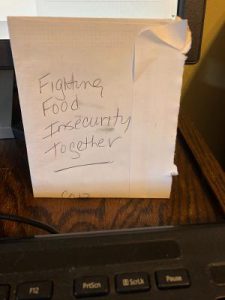 I scribbled those words back in early December.  When my oracle card told me, once again, to go with my vision, void of all the answers, just knowing that I have more support than I realize, I decided to put it out there.  #FFIT.  The response has been amazing and my heart is so filled with gratitude.
Today, let's all try to shine a little brighter.  Let the world know you are here and you are a force!
I AM HERE FOR YOU!