More than a few times, I have been accused about being evangelistic regarding my passion towards a plant-based diet.  As with some other aspects of life, it's hard to stay quiet when you have discovered something that seems to make great sense, or work so well…But just like, let's say religion, no one likes a pusher.  So I am working hard at keeping all my "vegan" speak on peaceandfitness for Vegan Thursday (ok, and occasional meatless Monday). Interestingly enough, I woke up this morning to read an article in Shape Magazine, from earlier this year, about Adele having lost weight following a strict vegetarian diet.  The article goes on to say that "according to the Centers for Disease Control and Prevention, over 65% of American adults age 20 and up are overweight or obese, but the prevalence of obesity among vegetarians and vegans is below 10%…Research has also found that switching to a HEALTHY vegan diet leads to weight loss without changes to exercise…and studies found an increase in calorie burn after vegan meals, meaning plant based foods may be used more efficiently as fuel for the body, as opposed to being stored as fat." I can't help but share this news as it relates to weight control and our over all health!
And though I can no longer say the word that describes the game played by professional athletes this time of year, because as soon as I type the "F" word, I get tons of spam for male sexual enhancement drugs (TONS!)…but let's see what happens when I talk about Houston Texan's Arian Foster, who blew up the game this past Monday night against the Jets.  What plant-eating skeptic on the face of this earth can argue with his superhero athleticism?  This guy (though there have been many before him) is living, catching, running, touch-down scoring proof…and very easy on the eyes.  Those muscles he sports are fat free, meaning every ounce of fiber really is pure, lean muscle.  I will never turn on my home team, but they may have a lesson or two to learn in nutrition?!?!
Far and wide, my favorite plant-eating animals are my first born child, my "adopted adult son," Pete and their posse.  I will always treasure the Thursday night's our dining room table looked like this (and I even see Kyle was at this one…it was a real bonus night!)  I love these people!!!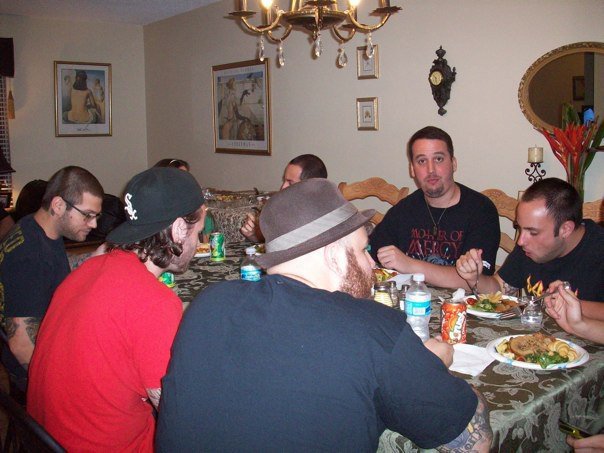 How I ever missed sending birthday wishes to my favorite pacifist, and the guy who asked "Hey Bungalow Bill, what did you kill?" when witnessing an animal being shot, John Lennon, this past Tuesday I don't know.   Thank you, John, for the gifts you gave and the legacy you left behind.
As you go through your day, I hope you will give some thought to the food choices you make, for you are always the boss of you!