Looking for more ideas for a meatless Monday meal?  Here is a super easy, super protein packed, super quick, very inexpensive, fairly healthy and nutritious idea for what I call TUNO salad.
Simply rinse and drain one 16 oz can of garbanzo (chick) peas.  Throw them in a bowl and add a few teaspoons of mayo (I use vegan) and mash (if you have a potato masher, this works best, but a fork will do) until it resembles tuna.  You can do this in the food processor, just try not to over process or it will be more like a dip than a "salad".  I always start with the least amount of mayo possible -just enough to help the mashing process- because after it's processed/mashed we are going to add some fresh lemon juice and some dill pickle juice as well as half of a finely chopped dill pickle, which all ends up moistening the end result. You can add some diced celery or red onion or whatever YOU like in your tuna, and salt and pepper to taste.  You can also delete what you don't like!  I find the pickles are a must, but you can go your own way!  If you google a recipe, you will find a lot of variations.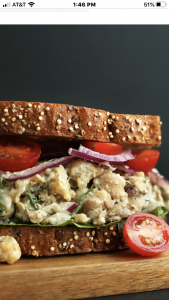 This makes a delicious sandwich.  Especially if you throw a few potato chips on!  Yes, I said potato chips–but you only need a few.   During these extremely stressful days, sometimes a few potato chips is just what the doctor ordered!
Always remember, what is good for you is also good for the animals and the planet.