Here's an easy to do workout that you can do anywhere with anything or with nothing at all!
Pick 5 exercises.  Do 12 to 20 reps of each or put a timer on it (1-2 minutes each exercise).  Repeat 3-5 times.
Wanna make it cardio?  Pick exercises like marching, jumping jacks, burpees, push-ups, running in place, high knees, step ups, jump ropes, pop squats, or???
Wanna make it all strength training but have no weights?  Try wall squats, push-ups, chair dips, planks, walking lunges, bridging, or???
Have weights, bands or balls?  Too many choices to list, but you can pick one or two muscle groups or work 5 different areas.
In more of a yoga or Pilates mood?  That works too!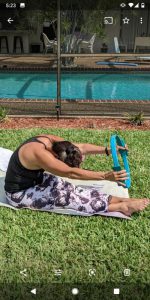 The possibilities are literally endless.   The only thing that prevents you from getting busy—is YOU.  So get busy.
There is just so much going on around us that is beyond our control.  Controlling what you can, really helps the body, mind and soul.  Peaceandfitness.  That's our goal.  Thanks for stopping in for a dose.