Back in the 1990s, I became super obsessed with learning everything I could about core work, which brought me to dive deeply into what was once called, Contrology, (and would later be what we know as Pilates).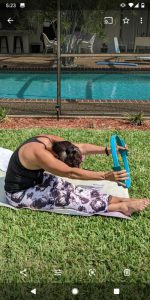 Working with the magic circle during the pandemic of 2020
At the risk of repeating myself, one of the things that impacted me and stuck with me forever, was the story about how Joe taught the men he was interned with his series of exercises, and when the 1918 Spanish Flu killed as many as 50 million people, NOT ONE of those 25,000 men caught it.  Coincidence?  I think definitely NOT!
Trying to learn everything I could about a discipline that was under legal wraps, I stumbled upon Gil Roberts of One on One Personal Training in Fresno, CA.  He was gracious enough to share some video tapes (yes, I said tapes) that he had and I started learning in front of the TV screen, and I will always be so thankful for his generosity.  By the end of the 90s, I was able to find instructor training down at Polestar Pilates in Miami.  Soon after I began teaching in a few gyms, as well as privately.  Pilates became more a part of how I move, teach and train myself and others, then a passing trend that many thought it would be.
Pilates is based on 6 guiding principles:
Centering
Control
    Concentration
    Precision
    Fluidity
          and BREATHING
(always suggesting we say breathing last, as that is what people will remember most, and it is the most important aspect)
Pilates breathing involves deeps inhalations that expand the rib cage in every direction, followed by full exhalations that gather the ribs back together, sort of like a corset being tightened.  This exhalation is combined with the navel being drawn towards the back of the body.  It is my belief that this mindful breathing is what helped keep the 25,000 men mentioned above, from getting sick, along with, of course, daily exercise!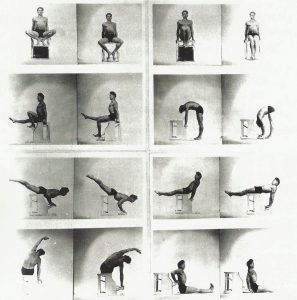 This image has him working on the chair, but trust me, no equipment is necessary….
My mother (who was my fitness role model), would often say "if you wait long enough, everything comes back in style."  Well, mom, you were right, cause what's trending this year is a big old pandemic, much like the one from the year she was born.  Since March 14, when I left the gym for what I thought might be a few weeks, I have hoped that my students remember the breathing I talked about, almost obsessively!
This week I am doing a Pilates challenge, in the form of a video showing up in my email each day.  If you are coming to the yard this week, expect a heavy Pilates influence in our workout.
If you have questions about anything you read here today, or any day, please ask.  Your peaceandfitness is my priority!  Stay safe.  Stay home.  If you must go out, where your mask!  And when you are back in the safety of your home, above all else BREATHE!