This article was pulled right off of the Forks Over Knives Newsletter.  They put out the best newsletter that comes in my mail, for sure.  Chock full of great information, photos, success stories, recipes and more, all designed around life on a plant-based diet.
I love everything about this article, and because I am always in conflict about working out and my the whole protein consumption thing, I love his attitude about nutrition, his amazing physique and how he teaches his son to honor the bounty of food available to us…But most of all I love (and want) his t-shirt that says "Eat What Elephants Eat." 
How I Fuel Myself With a Plant-Based Diet as a Competitive Bodybuilder
I did not grow up eating meat because my mother was a Seventh Day Adventist and health and vegetarianism are part of the religion. We moved to Jamaica for a few years to live with my grandparents, and it was during that time that we did eat some meat. After a while, I did become vegetarian again, but this time it was due to the Rastafari belief in an "ital" vegetarian diet.
I went full-force vegan in 1998. When I first decided to stop eating all animal products, I didn't even use the term 'vegan.' Veganism is huge now, but I didn't know the name for it then. It's been my lifestyle for so long that I don't know any different, and I don't want to. People within the bodybuilding industry encourage me to eat meat or drink whey protein shakes to get even bigger. But I'm happy with where I am. I'm winning competitions and my lifestyle does no harm to others.
My Journey to Becoming a Professional Bodybuilder
When my brother and I first moved to Jamaica from Alabama, we had thick Southern accents. Other kids picked on us, so I needed to have an outlet and to get strong. I started to do push-ups and work out with free weights. After we moved back to the States,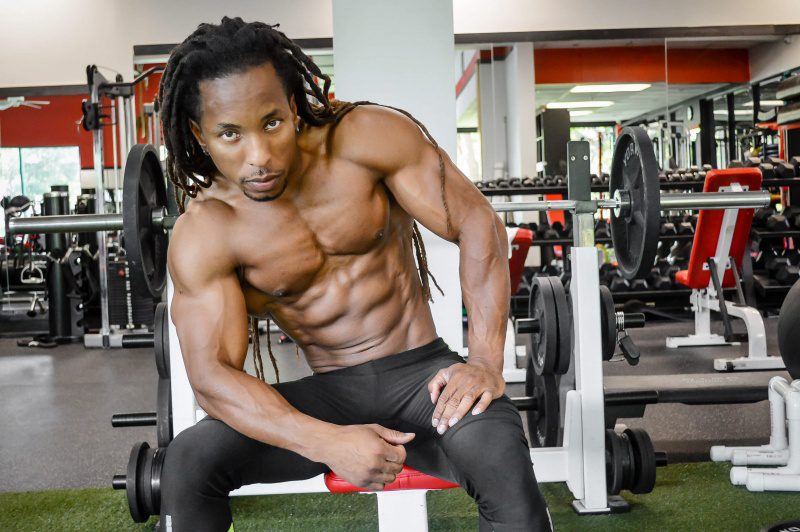 I continued to work out. I've always loved comic books, Wolverine, Arnold Schwarzenegger, and that super-fit physique.
I played football and ran track during high school, but never competed as a bodybuilder. It wasn't until after college that I thought about getting on a stage. I watched a friend of mine compete as a bodybuilder and I was inspired. I decided that I didn't want to lie on my deathbed and regret never having tried, so I told my friend that I wanted to compete the next year. This was in 2008.
My friend couldn't help with my diet since I didn't want to start eating meat, but he did encourage me with training. In 2009, I competed in my first show and got third place. I was so excited and signed up for another one. I won that second show and I've never stopped. Now, four pro cards later and an incredible win at Musclemania, I've decided to do this full-time. I left my day job as an engineer for Honda earlier this year.
Plant-Based Performance
I'm an all-natural bodybuilder, which means I don't take performance-enhancing drugs. I recently competed in the Arnold classic, which is not a natural show (meaning that they don't test you). I was thrilled to be accepted to compete in it as an all-natural athlete. For many years, I just enjoyed competing but was very private about it. I never had any intention of becoming known as a "vegan athlete."
But as time went on, people within the community began to ask me for tips and for training help. As the conversation went on, I'd find myself talking about my vegan lifestyle and dispelling myths about building muscle mass on a plant-based diet. It's been an amazing experience now, seeing that something I love to do is an inspiration to others.
Food and Fuel
People ask me about protein, nutrients, and how many carbohydrates I get everyday because they want specifics. But I never track any of these things. Some days I eat three times a day, and other times I eat five times. Overall, I just continue to work out and eat a variety of healthy vegan foods. I believe in keeping it simple and not complicating things. Eat to live, and don't live to eat. Eat nutrient-dense foods, sleep a lot, and drink water. Don't eat empty calories.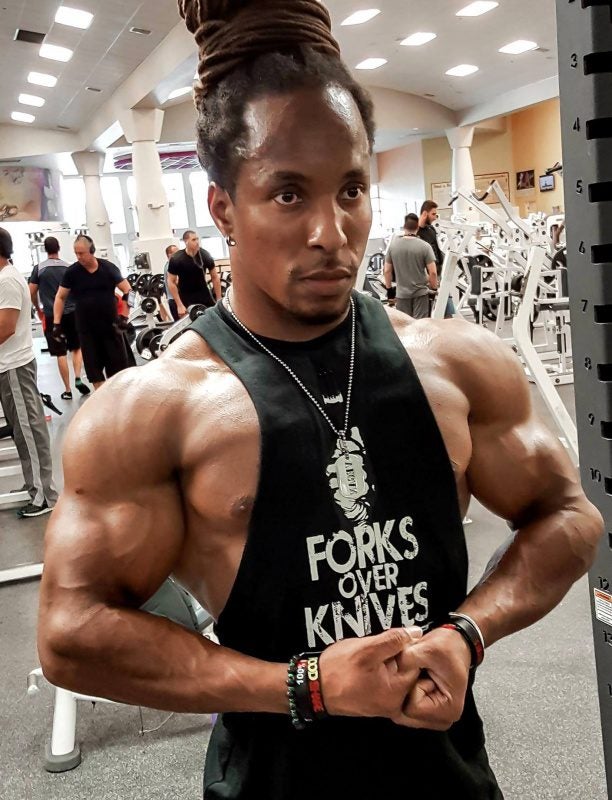 My diet doesn't change much during competition or the off-season. If I'm competing, I increase my water intake and activity and might lower my overall calories a bit. But I also know my own body. I look at my physique and adjust from there. For my clients, I preach simplicity. Learn what works for your own body. I want to create leaders, not followers. So I want to teach people to eat effectively for their own bodies.
I'm not a picky eater, so if it's healthy and vegan, then I'll probably eat it. I could eat beans all day, and there's not a green leaf that I don't like. I love fruit, oatmeal, pancakes, wraps, sandwiches, and grilled tempeh with veggies. I tell my son all the time that there is someone in this country who is eating out of the trash right now. I want to teach him to be grateful for the bounty that we have; I don't believe in wasting food.
Although I might grab a power bar or a shake if I'm at the airport or on-the-go, I don't take any bodybuilding supplements. And I'm not going to promote anything that I don't take. That's not me.
Feature Photo [Left] by m.a.farrington
Inset Photo (above): VisUalize Photography by Kelvin Johnson
Stay in touch with Torre through his channel, his page, or his website.