Everything about SPRING makes me want to celebrate.  Especially the colors (which is funny for a person who always gravitates to BLACK)
If you find yourself in Trader Joe's and they have the tiny bundles of daffodils, do not be fooled by the fact they are small and all closed up…For $3.50 I grabbed two and brought them home and after a few hours in the vase they looked like this: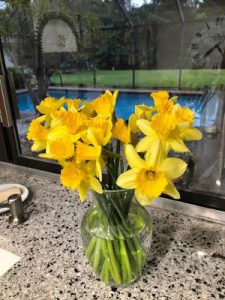 Yellow daffodils scream spring to me!
The first spring food drop off at Feeding America will be happening this Friday.  Thanks again to everyone who helps make this a big deal every month.  This will be our 4th and things are running so smoothly, thanks to all the generous people who support this community effort.  #F.F.I.T.
Happy Meatless Monday.  As the days get longer and warmer, salads are the perfect meal.  This was last night's.  I threw some grilled Gardein "chickenless" strips and Violife feta on top with vinegar and oil…easy, healthy, pretty, filling, super colorful and no animals were harmed.

Thanks for stopping by.  Keep taking care of you, your loved ones, your community, the animals and our beautiful planet.  Much love………..