Happy Summer (a few days in).  Summer is so much more than a season.  Summer is a mentality.  Summer is no more pencils, no more books.  Summer is freedom and splashing and laughter.  Summer is long days, cool refreshing drinks and mangoes, along with other sweet, juicy, fruits.   Summer is a frame of mind and I LOVE it!
I like to kick back in summer and let go of most anything that remotely resembles responsibility, which may account for why I haven't posted in a bit.  Every morning I consult with the Spirit Animal oracle deck and it gives me something to reflect on as I go through the day.  This morning, I picked a card for all of you.  The card that came up was:
SPIDER SPIRIT:  Make your dreams real!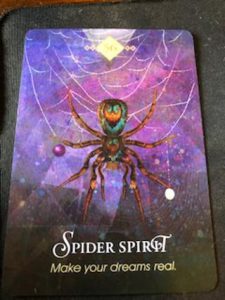 The guide books says:  Weaving your dreams into the fabric of life begins with a single thread of intention, and then Spirit joins you as your co-weaving partner.  Take but a single step to make your dreams a reality and Spirit will take ten toward you, for the universe is designed to support your dream-weaver. 
Spider spirit arrives when you need reminding of all the awesome power of co-creation with Spirit.  Ideas and resources will being to appear as if by magic as you begin to bring your dreams from the realm of intention into the world of senses where they take form.  Be clear about your intentions and then act as if you are the one that lives the life you desire.  The web of creation has an uncanny way of coming together to weave the beautiful pattern you set in motion.
Another message of Spider Spirit is about any creative project you may be considering; writing, painting, music, journaling, gardening, etc.  NOW is the time when inspiration wants to be channeled through you as something creative, even artistic and tangible.  Creative projects are successful now, if you are so inclined.  LET YOURSELF BE OPEN TO ABUNDANCE.
In our family, Summer is EVERYTHING.  Our Summer girl was co-created with so much good intention, patience and lots and lots of love.  This picture transports me right to her side as she was SO in awe of the beautiful animals depictions.  And so serious!  I can't wait to read cards with her again soon.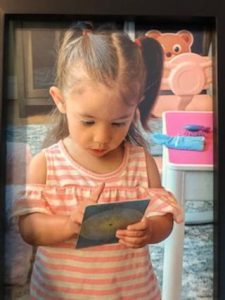 Here's hoping the message of the Spirit Spider helps guide YOU to fulfilling all you dream of….and more!