12 years ago, when I transitioned from vegetarian, to plant-based, it was a challenge to find meat substitutes.  Over the course of those years, it has become easy!  Maybe, too easy.  From burger wars to vegan spots popping up even in unlikely places, finding meals that don't include animal products is no longer a challenge.  Being very health conscious, however, most of these products use too many weird ingredients, and don't fit into the healthy category.  Admittedly, the Gardein breakfasts sausage are a always in my freezer and often eaten as part of a quick breakfast.  The plain "chicken" strips are also a staple as they are low in calories and super easy to prepare.  6 minutes on the stove top and they are done.  And Just eggs (or what Summer knows as jeggies) have been a total game changer.
Lately, however, I have been trying really hard to keep my processed food intake to a minimum.  There are so many grains, fruits and veggies that are all just naturally vegan.  Fall gifts us with a gorgeous rainbow of veggies to choose from, and never get bored.  I love color combining.  Roasted butternut squash, (I always buy it already cut up as it is WELL worth the extra money) and/or sweet potatoes contrast so beautifully with brussel sprouts.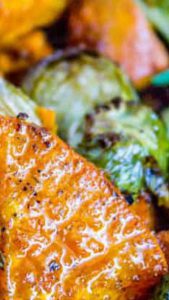 I usually add fresh garlic to the brussels (cut in half) and cook them till they are almost burnt.  I will often do a whole tray of 5 or 6 veggies and then for a protein pop, rinse and drain a can of chick peas and add them to the tray.  Everything gets some olive oil and salt and gets roasted at 420 degrees for 30-40 minutes.  A tray like this is beautiful at the holidays, especially Thanksgiving.
Morning oatmeal, also a party in a dish.  Add some peanut butter, blueberries, banana, cinnamon, almond or cashew milk  and you have a beautiful mix of nutrients, it is heart healthy, comes in with a perfect calorie count and fills us for hours.
Salads make a great lunch.  Don't get into a salad rut.  There are so many kinds of lettuce and all veggies are an option.  Or mix it up with a spinach and mushroom salad.  My dear friend Rita makes a delicious salad using spiralized zucchini as the base.  You can't even believe the zucchini is raw, when you eat this as the natural juice and dressing soften it up so perfectly.
Craving dough?  Bagels, english muffins and many breads are made without animal products.  Pillsbury Crescent Rolls are accidentally vegan and who doesn't love those?
The question of protein will always come up, even in my own mind and even after all these years.  When I went hardcore into weight training a few years ago, I worked really hard at having 20 grams of protein at each meal.  After a few months, I promise it made ZERO difference for me.  It might be very different for you.  Animal products are really middle men.  Animals often get their protein from……PLANTS.   Even gorillas get their protein from PLANTS (leaves, stems and shoots). Many say we need to eat fish for our omegas…fish get their omegas from plants (algae).
For me, the benefits of a plant-based "diet" are more than I can even write about without alienating some, which I never want to do.  Suffice to say, it feels light and right to digest and get my nutrition from sources that have not had to suffer….but that's a whole other blog.
This being Meatless Monday, perhaps you can consider a meal or two that doesn't include animals or their by-products.  While the Covid numbers continue to climb again, it's important to note that your greatest immune boosters are colorful foods, exercise and sunshine.  Pay attention and you might just find you actually feel HAPPIER after a plant-based meal.  Health and happiness is everything.
Thanks for stopping in for a does of peaceandfitness.  Much love!