Yesterday was a somber day so I refrained from posting this.  We never forget.
This week a lot of focus has been on the 5th chakra, Vishuddha, or what we more commonly call the throat chakra.  For me, personally, it is the chakra I can see improvement in, almost immediately after some attention to it.  This week has also been a lot about setting boundaries.  So I had to share this.  A special thanks to the folks at Elephant Yoga for posting amazing articles, memes and inspirations.
I speak my truth with loving kindness or…………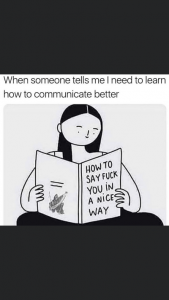 Thanks for stopping in for a little peaceandfitness.  Go have an awesome weekend.