When the pandemic started I started jogging again.  I have always had a love/hate relationship with it.  I have never been fast enough to be a runner and never had the endurance to get into endless miles, but have always liked including it in my cross-training.
On again, off again pain in my right knee, always concerned me.  Ironically, when I started back into jogging in March, instead of getting worse, the pain QUICKLY got better, so I wasn't entirely surprised, but very delighted, when I read a study done at the University of Maryland.  It turns out running can bulk up the cartilage and tissue that cushion the ends of bones.  Bulked up cartilage is a good thing, and I am supposing that has helped quell my pain!  Knowing too much of a good thing can be not so good, long distance, daily runners need to keep in mind that all the joint bending and pounding can have the reverse effect…fraying the cartilage and causing damage…and pain.  So if you have pain (in your knee or elsewhere) maybe it's best to do a little and see how you feel the next day.  Then go from there.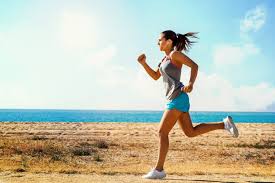 Cross training is the best way to avoid repetitive use injury and pain.  Maybe just a little run to your nearest produce market….it is, after all, meatless Monday.  Make yours a great one!
UPDATE….this is what happens when all the days run into one another…took me till noon to realize I wrote meatless Monday, when it's actually Tuesday!  Any (and every) day, is a great day to think and eat meatless.