With this being the first morning I have had to sit down and spend some time at the computer since the weekend, I anticipate a long, and probably disjointed entry.  Forgive typos and errors as I am just going to ramble here. I have so much to say about so many things but this is Vegan (Feast) Thursday so…..
Let me start by saying,  I just finished reading a page 2 article in the Sun-Sentinel about the "bad-meat" scare.  Yum Brands, who owns KFC, Pizza Hut and Taco Bell (just to name a few) has been sited (back in July) for  mishandling food products and selling expired meat in China.  Expired meat is NEVER  a good thing and this is just one more reason I love life on a plant-based diet.  But the list of reasons is enormous and the food I got to enjoy this weekend, along with the people I got to enjoy it with are right at the top of the list.
Friday night, my 2 favorite herbivores, Derek and Jolene, arrived from Vegas and though it was the eve of Yom Kippor, Mitch and I decided to passover that holiday and make our own holiday with our kids.  I made non-pigs in a blanket, to serve as appetizers with our chips and salsa and soft pretzels with mustard…and drinks.  Then we sat down to enjoy a garlicky kale salad, my chakra salad, buffalo garlic "chicken" tenders, grilled potatoes, fresh fruit with yogurt dip and cookie dough truffles.
Saturday afternoon was Pete and Erin's wedding so earlier in the day I offered to make brunch for whomever wanted to come.  I was so happy that Pete joined us, along with their wedding photographer, Karen.  I made some tofu scrambles, Gardein sausage patties, tuNO (chick peas), with bagels, Tofutti cream cheese and oatmeal/banana cookies.  I also made smoothies with the berries from the night before.  The food was nothing compared to the company.
Pete and Erin had a beautiful wedding at the Fern Forest Park and it was just beautiful.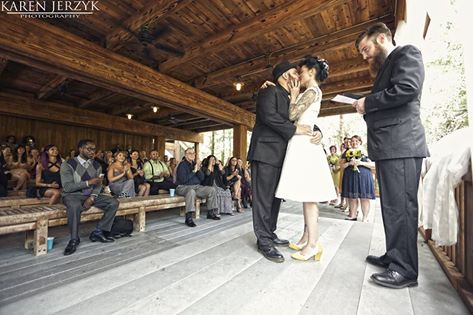 After the lovely outdoor ceremony, we went inside to a room decorated with super earthy finds and a vegan buffet to die for.  The catering, done by Inika Foods was incredible!  This family knows how to do vegan, healthfully, beautifully and without all the faux stuff.  From the stuffed mushrooms, to the middle eastern foods, the spinach pie,  the baked goods (and sooo0o much more) the food was not only delicious, but made such a beautiful presentation.  It was such a joy to see all the non-vegans cleaning their plates.
  
The baked goods were gorgeous.  I was so full I had only one cupcake and chose the one with the caramel and pretzel on top which was SO good and melted in my mouth–but I am sure they were all insane!!!
The wedding was filled with compassionate people, adorable children and great music!  It was as non-traditional as the bride and groom, and it was a joy to be a part of my Pete and Erin's big day.
Sunday morning it was up and out early to meet up with them and a bunch of wedding attendees at an all vegan restaurant in downtown Orlando, called Ethos.  When you live life on a plant-based diet, eating out is hard.  Often there are NO options and more typically there is one…maybe 2.  So how does one decide when they go to a place like this?  You share.  I ordered the burrito filled with "sausage," home fries and tofu scrambles–topped with gravy.  I couldn't resist trying the biscuits and gravy, though, so Jolene and I shared those and she ordered the pumpkin raisin pancakes.  Everything was off fabulous.
With bellies full, it was off to Universal and Islands of Adventure where we met up with a lot of Derek and Pete's friends as well as Kyle and Nicole.  Since Kyle and Nicole ran a 10 miler the night before through Disney, (great job!!!) we weren't sure how much walking they would be able to do, but they were in great shape and spent the entire day at Universal with us.  Since we were really too many people to travel as a pack we split up and did that park with Derek, Jolene, Kyle and Nicole.  The kids gave us the support we needed to ride the rides that we might have otherwise opted out of, like the Mummy and the Harry Potter ride.   What could be better than a day at the theme parks with our kids?? I think NOTHING.  Just wish Pete and Erin were in this pic, too.
Universal closed at 5 and we said goodbye to Kyle and Nicole who headed back to Tampa.  The 4 of us went over to Islands of Adventure and rode Spiderman and the Harry Potter ride there.  That last ride was a little too much for me but whatever doesn't kill you really does make you stronger.  We met up with the entire group again for some photo ops, laughs and long goodbyes.
Before I sign off on this entry, I have to say how amazing all of Derek's friends look.  "Chippy,"  took of so much weight (going vegan) and started some serious working out.  I think he lost something like 70 pounds!!!  He told me how awesome he feels since giving up animal products and I know exactly what he means!
I am not and will never be an "in your face" vegan.  I believe in choice across the board.  Without choice we are not a democracy.
Every day I chose to be the healthiest me I can be.  I choose to push my body till I sweat hard.  I choose positivity over negativity and to always be grateful for what I do have instead of concerning myself with what I don't have.  I choose love and compassion and believe that all people were created equally.  I believe that the same goes for animals.
Thanks to my 6 kids and to the THREAD for letting us be a part of a most wonderful weekend.  I will hold the memories and the love in my heart always.  You are all awesome.