Happy Sunday to all.
This morning I decided to try to do a kind of UNIVERSAL READING and I asked my oracle deck "what kind of message are you trying to send us all today?" This is the card that popped out.
BABY STEPS–
ACTION—FOLLOW YOUR INTUITION, BEFORE IT MAKES SENSE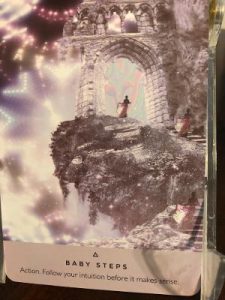 This card speaks of really tuning into your soul's desires, and then taking one step each day, that moves you in that direction.  I love how it talks about not needing to have all the details figured out–it looks to me like taking a leap of faith and trusting the process.  The message certainly resonates with me, and because we have all been challenged by so much, over the past 6 months, I think it will resonate with many of you, as well.
Ask your soul what it really wants and then just listen!  Think about what baby steps you can take and then just keep putting one foot in front of the other.
Thanks for stopping in for a little peaceandfitness!